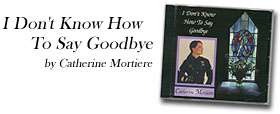 "I Don't Know How To Say Goodbye" is a music CD containing service music, songs of deep loss, messages of healing, and inspirational songs designed specifically to memorialize fallen police officers. The intention of this CD, is not only to comfort those who mourn for our fallen heroes, but also to offer a way in which their families and organizations dedicated to assisting those families, can use it to raise money.
To give to family members of our Fallen Heroes
To give to others who attended the funerals of our Fallen Heroes
To offer this as comfort to our Law Enforcement Officers who grieve the loss of their fellow Heroes In Blue
To play at funerals when musicians are not available or time does not permit the learning of applicable songs
To use as a fund-raiser for your organization
For executives to give to the families at the time of loss of one of their own department members
To heighten the sensitivity of our community toward the "ultimate sacrifice" made for them by our Heroes
Profits from the sale of this disc go to organizations dedicated to assisting the families of police officers who have given their lives so courageously.
Craig Floyd, Chairman
National Law Enforcement Officers Memorial Fund
"Throughout the years, music has played a major role in our efforts to honor the memory of America's fallen police officers. It is often the uplifting patriotic medley that climaxes our candlelight vigil, or the mournful tones of "Amazing Grace-The Police Officer's Tribute," that people remember long after the ceremonies end. As they recall the music, they are reminded of the daring deeds performed daily by our officers to preserve public safety. This is a collection of some of those inspiring songs and they are performed by a woman with a remarkable musical gift, Sergeant Catherine Mortiere of the Detroit Police Department."
Suzie Sawyer, Executive Director
Concerns Of Police Survivors
"Music has always been healing, soothing, and brings back warm memories of the past. Catherine's CD, "I Don't Know How To Say Goodbye" will allow those members of the law enforcement family needing warm memories to be soothed, healed and inspired. What a treasure this CD brings to law enforcement."
Copyright © 2000 Nipper Corporation. All Rights Reserved.